~Tropicana Field~
~June 12, 2015 White Sox at Rays~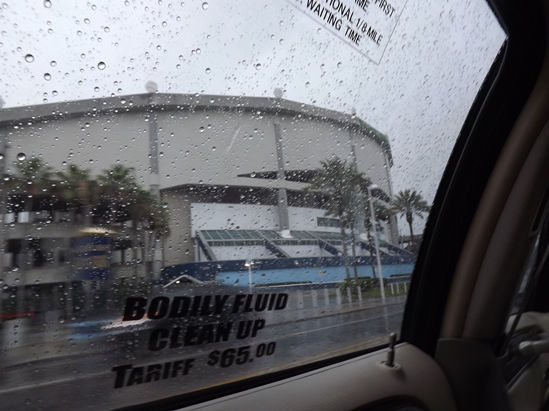 Fortunately the game was played in a dome, as it was raining HARD with thunder and lightening.
"You are here"... we came in right behind home plate...

First siting of the field


Not many here, yet... but it is still early.

You can pet the rays in centerfield.... the tank is operated with help from a local aquarium. I was going to get in line, but then I visited the hitters museum....

There is a color coded chart so you can play Take me Out to the Ball Game on the xylophone.

Something just seemed 'fishy' with this Dolphin in a Rays jersey. :-)

I had read about the hitters museum - thought I'd check it out for a few minutes... ended up spending about 40 minutes and wanted to spend more!

On the bridge over to the museum, you can see the sculpture of the catch.

Ted Williams (who founded the museum, and it is his namesake) and Babe Ruth.

The Detroit 'locker'. A picture of Ty Cobb going in with spikes high.

The Dale Murphy 'locker'

The banner for the museum on the bridge. The museum was amazing....The few pictures I took didn't do it justice. An amazing collection for a baseball park.

Ok, back to the field - the game is about to start, and we need to find our seats... But first, the mascot "Raymond" is warming up with the players.

Lineups.

Jim Hickey - the Rays pitching coach. One of the best.

Game time....

Evan Longoria

Pepsi Race.

Rays Win tonight!