~Safeco Field~
~May 12, 2007 Mariners vs Yankees~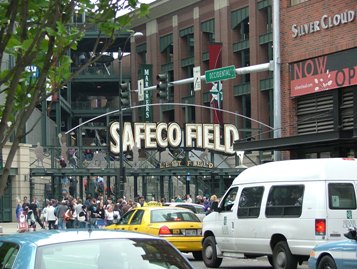 Ok, so they were definitely in Washington, but selling Yankees shirts, caps and jerseys right outside of Safeco? Gee...

Finest DH honored...

This bat chandelier was located just inside the home plate entrance. Do you think they make this in a size for MY house?

Roof was open this day, but even thought it was May - by the 7th inning, many were wishing it were closed. Brrrrr.

Nice view of field.

My own personal ballpark review...Safeco gets an A for REAL onions.

When the home team hits a home run (didn't happen this game) the train runs.

OH MY GOODNESS!!! Chocolate covered strawberries - in dark, milk or white! I declined the real onions for this WONDERFUL treat!

Prepping the field for the game.

One of the few bright spots for the Mariners this evening was an RBI by Adrian Beltre.

Final score... Funny, though, I think most of the attendees were very happy.