~Illinois Page~
State Capital: Springfield Origin of state's name: Algonquin Indian for "warriors"
Visited my friend Jolanta October 2016 for her son's 2 year birthday. While there, we hit a couple of the places in the 1,000 places book.

First was Superdawg
Oh - this is Jolanta.

Superdawg is an 'old-fashioned' drive-in where you order from your car and they bring it out on a tray to attach to your window.
Sadly, they did not roller skate out. :-(
The hot dogs are served in a box with fries...
The famous hot dog was good, but the fries were GREAT!
The next day we went to the Frank Lloyd Wright's home and studio. It was a free day, so there was a longer line than usual.
After we toured the home and studio, with the help of a map, we went on a walking tour in the neighborhood and saw the outside of some of the other homes he designed.

Home and Studio
One of my favorite houses we saw on our walking tour.
Next up - - - - the Art Institute of Chicago
As we were walking to the Art Institute, we passed the start of Route 66. The whole time I was visiting, we had been discussing the desire to travel the route and had pointed out several Route 66 signs and markers. So when we saw the official start, we were pleasantly surprised!
A few steps from the beginning of Route 66, and we were at the Art Institute.
The "W" flag in the middle is in honor of the Chicago Cubs who, at that time, were playing in the World Series. They ended up winning the World Series.

We saw most of the pieces the book suggested, with one exception - - - the American Gothic picture was on loan to another museum. :-(
Below are a couple of my favorite pieces in the museum.

In the first room was this piece. I was stopped in my tracks and immediately Jolanta good-naturedly laughed at me for talking about how the light was so amazing. (I still say it is amazing!)

Aelbert Cuyp, Dutch, 1620-1691
A View of Vianen with a Herdsman and Cattle by a River 1643/45 - Oil on panel

I really liked this one for reasons I cannot explain.

Franz Marc
German Expressionist, 1880-1916
The Bewitched Mill
1913, Oil on Canvas

Later, we had dinner at Dell Rhea Chicken Basket. An original Route 66 eatery. Very good food.
Many thanks to Jolanta for helping me check several sites off in my book (that she gave me!) and to Jerry for pulling daddy duty so we could!
A visit to Cantigny Park, July 2014
Cantigny Park, July 2014
http://www.cantigny.org/
A living Monet painting
| | | |
| --- | --- | --- |
| | | |
| Very clever use of plant pots! | | Several tries but I finally got the butterfly. |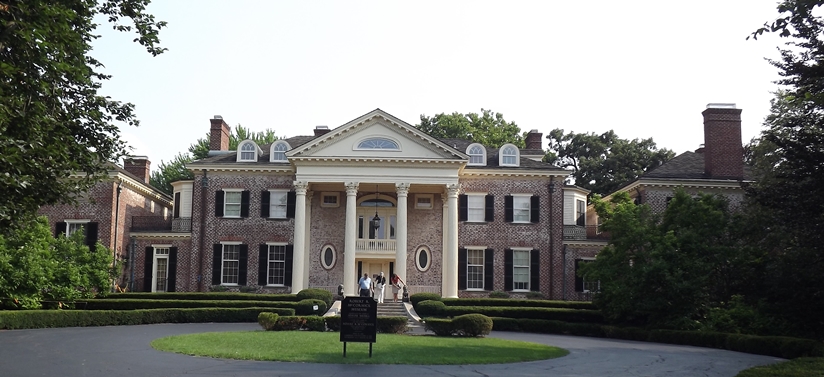 Robert R. McCormick was a member of the McCormick family of Chicago who became owner and publisher of the Chicago Tribune newspaper.
The dining room in this house was also used in the movie "A League of Their Own." (We couldn't take pictures inside.)
Oh, and WGN stood for Worlds Greatest Newspaper.
Click here to go back to USA map page

Click here to go back to House Home Page