~Connecticut Page~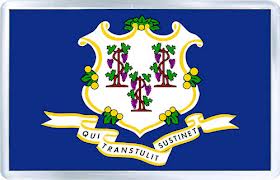 State Capital: Hartford Origin of state's name: Based on Mohican and Algonquin Indian words for a "place beside a long river".
Visit to CT in 2007

Had to visit the Griswold Inn - it is in the '1,000 Places to See Before You Die' book that Jolanta gave me.

(Plus, was hoping to see Clark. haha)

The Inn is as old as the country.

Very quaint.

The food was pretty good. The people were very nice.

The Griswold Inn is in a town called Essex. Other places there were this ship building museum - right on the river.

This sign was there, too.

In case you were wondering, the Oliver Cromwell looked something like this.

There were several cute houses there.

To me, this is what a house in CT looks like.

I also visited a park in nearby East Haddam. Gillette Castle State Park.

It was during the week, so the castle was closed, but I got to wander around.

Where else would Sherlock Holmes live?

Visit to CT in 2006

Yes, I know this is Connecticut, but this was parked outside my hotel all week - And I always thought Hicksville would be in Alabama!

Yep - I was training only 20 minutes from my mecca! Unfortunately, according to their website FAQs, they do not do tours.. :(

Funny - you come over a hill and there it is!!!

Easy to recognize with all the dishes.
Click here to go back to USA map page

Click here to go back to House Home Page